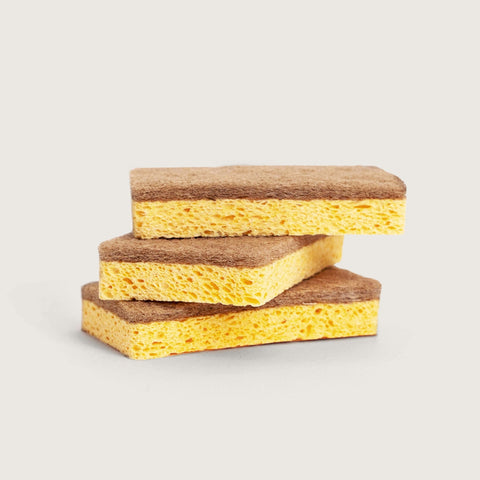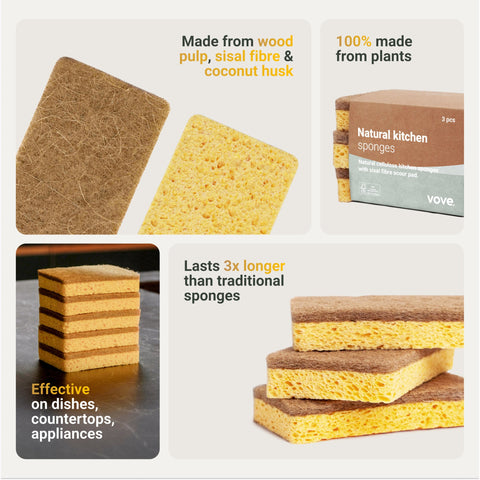 Scrub sponges
Scrub away, the natural way
Dual-sided design for versatile cleaning
100% made from plants
Lasts 3x longer than traditional sponges
3x washable, quick drying and odorless sponges


Get ready to be the envy of all your friends with our all natural kitchen sponges. They're 100% compostable, effective, and so chic, you'll want to invite people over just to show them off (and maybe even let them do the dishes).
Frequently Asked Questions
Are the Sponges safe for non-stick cookware?
Yes, our non-scratch scouring pads are safe for use on non-stick surfaces.
How do I dispose of the sponge when it's worn out?
The sponges can be composted in a home or commercial composting facility.
How often should I replace the Sponges?
Replace every 2-3 weeks or as needed for the best performance.
How do I care for and maintain the Sponges?
Rinse the sponge thoroughly after use, squeeze out excess water, and let dry in a well-ventilated area.
What are the sponges made of?
The sponges are made of wood pulp cellulose sponge and the scour pad is made of sisal fibre and coconut husk.