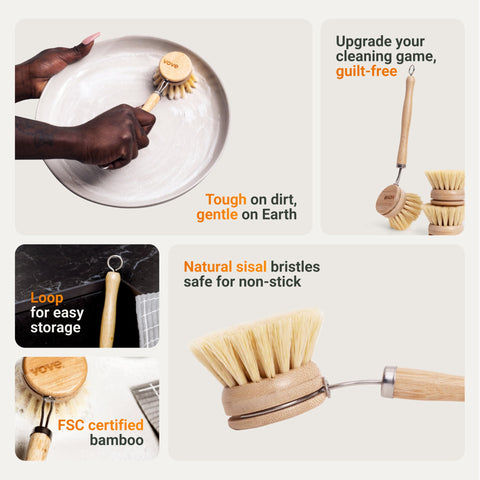 Dish brush
Chic, durable, and ready to tackle dirty dishes!
Natural sisal bristles
Elegant & functional design
Tough on dirt, gentle on Earth
Reduce waste & save money with replacement heads


Upgrade your kitchen with our Bamboo Dish Brush that's both stylish and practical! Featuring replaceable heads, natural bristles, and an eye-catching design, it's the ideal choice for conquering any dishwashing challenge.

If subscription, after your first delivery, you will receive just the replacement heads at £3.2

Frequently Asked Questions
Are the bristles safe for non-stick cookware?
Yes, the plant-based sisal fiber bristles are gentle and safe for non-stick surfaces.
How do I replace the brush head?
Simply unclip the old head from the handle (wiggle it) and put in the new replacement head, slide back the clip and get cleaning!
How should I care for the brush and replacement heads?
Rinse after each use, allow to air dry, and store in a dry place.
How often should I replace the brush head?
Replacement heads last for two-three months, depending on usage and tasks.
Can I use the brush for cleaning tasks other than dishes?
Absolutely! The versatile design makes it suitable for various cleaning purposes in the kitchen and bathroom.
Is the metal part rust-resistant?
you bet! it's galvanized to prevent rust of any kind!